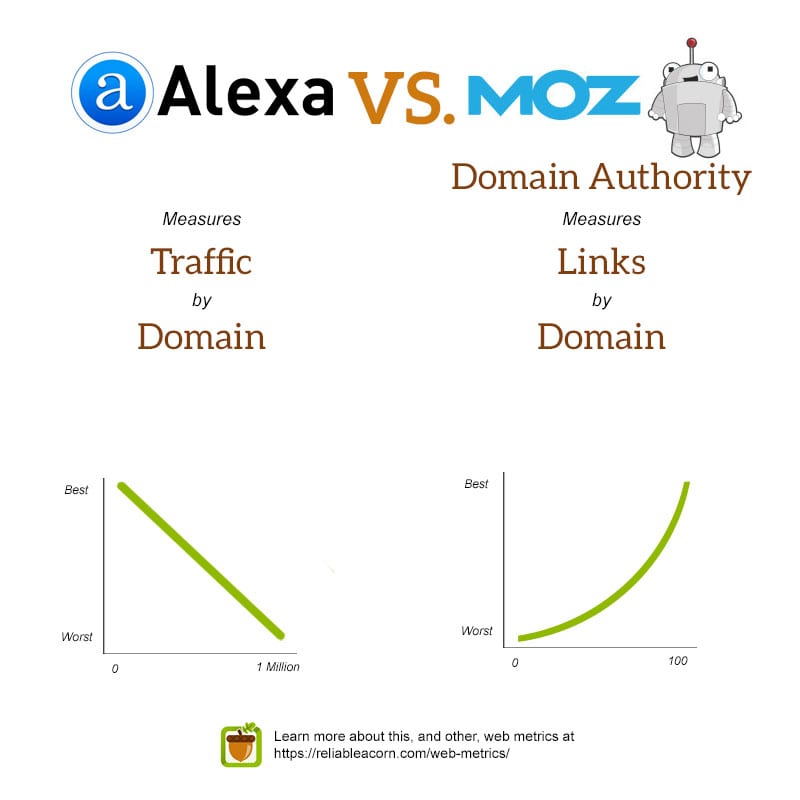 The world wide web is literally "wide." There are so many websites with different information, products, and services out there. In this case, we are providing assistance to those who own websites. To have a successful brand, one must be very wise in choosing the right tools for search engine optimization(SEO). This is a very crucial part for putting your site on the first page or even in the top spots of the search engine results page(SERP). In this post, we are going to discuss and compare two of the most known tools in the business to help you have an insight to which could be best for your site. These tools would be Moz vs Alexa.
We are going to answer the question: which is better Alexa vs Moz Pro?
When looking for the SEO Software that is fit for your company, our suggestion is that you analyze and balance the features, pricing, and other important data about the product and vendor. In this article, you can examine the similarities and differences between Alexa vs Moz Pro.
You can also explore their individual details, like characteristics, plans, scales, conditions, etc. Moreover, you can examine the terms closely for information on covered fees, like, setup charge, separate helpdesk support, upgrade charges, cloud storage fees, and many others.
We are also going to address the pros and cons of both tools.
Moz
Moz implements inbound marketing analytics software. They also house the web's most active online marketing community and produce free support for studying inbound marketing. The upper hand of Moz are in their analytics program, smart new keyword research tool, and their content platform. They have kept their link data offering at a similar stage of scope and performance since the year 2012. The entire software is made for newbies, as stated by some users. However, the blog and the folks behind it have given a formative authority over most of our jobs over the past years.
Despite some of the lapses of the solution, MOZ is a great company with great authority. It is a really useful tool for those who don't have thousands of bucks in their SEO funds. Many are very curious in the latest Local Moz offering and are considering attaching that to their package. Also, one of its handy and widely-used function is link-based research.
Pros
Keyword Explorer– this tool features SERP analysis and suggestions. The suggestions that are in question forms are a good place to start in getting a clue of what your target audience search about and how they will search it. Then, this will enable you to do more targeted research within the SERP itself and make up a plan for your piece of content in any form(text, image, etc).
Rank Tracker– this tool is really useful for firms that are trying to get an immediate sense of how many sites are competing for higher priority keywords. All your top terms are placed on one page, which makes it simple to conduct a prompt, daily analysis.
User-friendly community forum– Moz has a community that is open and not judgemental. In this forum, people can freely express their ideas and matters without ridicule or discomfort.
Cons
Link building– they don't see this feature as a strength that's why they need to develop it.
Tracking rankings capability– they need to separate the metrics for the keywords for mobile and desktop.
Alexa
Alexa's set of automatic analytics outcomes converts data into significant insights that lead to a competitive edge for an online marketer. Alexa Rank calculates web traffic, which is an essential metric. However, this one piece of knowledge isn't a good description of how your website performs as a whole. Other determinants like bounce rate and user experience are important just as much for your SEO ranks.
Pros
Total traffic calculation– by establishing Alexa's Certify Code on your site, Alexa will start directly surveying and reporting on your website's traffic. This gives you precious insights into your site's achievement. In distinction to other analytics software, we guarantee all of your site's traffic is being calculated.
Metric publishing– this is for the purpose of boosting your advertising revenue. Showing your traffic stats and actual audience volume can help you bring in possible business partners, investors, and advertisers. After verifying your site, you can decide to publish your Certified Metrics with Unique Visitors and Pageviews on your site's public Site Overview page.
Cons
Hidden costs– this may result in wasting a lot of money. The pricing model is not satisfying.
API calls– this feature is disappointing because it fails sometimes.
Website suggestions– sometimes, some users find the suggestions unnecessary.
Conclusion
The results spoke for themselves. In this showdown, the clear victory is for Moz. It is undeniable that this tool is really satisfying for you and your site. Though it's not illegal to use both tools when you find some of the advantages in Alexa good for you, too.